Articles written by The English Editors
Here is a small selection of articles written or ghostwritten by Russell Gilbert, editor-in-chief of The English Editors. These editorials showcase the quality of journalistic writing and highlight the breadth of subject matter that The English Editors can expertly tackle. If you need a professional native English language editor, journalist or writer, please do contact Russell and let The English Editors help you.
---

Taking a Sensitive Approach to Leadership
Marijn Dekkers, chairman of the board of management of global life sciences company Bayer AG, outlines his thoughts on the changing nature of leadership and why sensitivity is an important quality for leaders everywhere.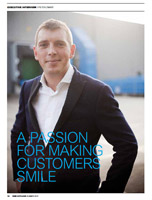 A Passion For Making Customers Smile
Pieter Zwart, CEO of market-leading online retailer Coolblue, talks to Russell Gilbert about the factors driving the company's impressive success, and why, in his view, high street retailing is in terminal decline.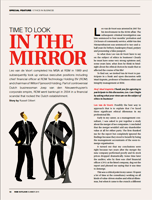 Time to Look in the Mirror
Leo van de Voort, the former CFO of RDM, which went spectacularly bankrupt in 2004 in a scandal that rocked the Dutch establishment, talks about ethics in business and the lessons he's learned from his mistakes.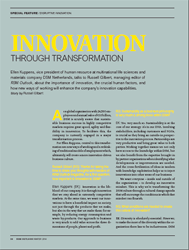 Innovation Through Transformation
Ellen Kuppens, VP of HR at multinational life sciences company DSM Netherlands, outlines the importance of innovation and how new ways of working will enhance the company's innovation capabilities.

The Competitive Advantage of Customer Insights
Ulla Kruhse-Lehtonen, Vice President of Customer Insight and Analytics at media giant Sanoma, and Riikka Turunen, Director of Data Protection and Privacy, explain to Russell Gilbert the benefits and challenges presented by big data.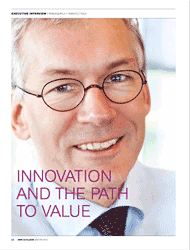 Innovation and the Path to Value
Frans van Houten, CEO of Royal Philips, talks to Russell Gilbert about organisational transformation, innovation, and the importance of keeping abreast of technological and societal changes.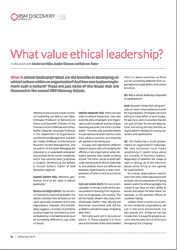 What Value Ethical Leadership?
An article reporting on the 2nd RSM Discovery Management Debate organised by Rotterdam School of Management, Erasmus University, and moderated by Russell Gilbert.

Watch the debate below...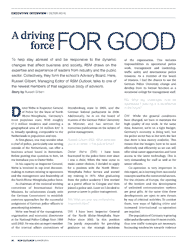 A Driving Force for Good
Dieter Wehe, Inspector General of Police for North Rhine-Westphalia, Germany's most populous state, talks to Russell Gilbert about the ever-changing role of the police.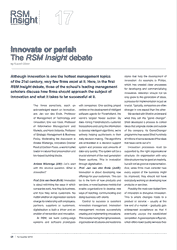 Innovate or Perish
An article based on a panel debate in which three world-class academics discuss the value of innovation for businesses. The article features in issue 17 of RSM Insight magazine.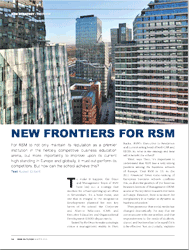 New Frontiers for RSM
Theo Backx, Executive-in-Residence at Rotterdam School of Management, one of Europe's top 10 business schools, tells Russell Gilbert how RSM intends to enhance its already excellent reputation.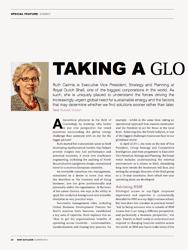 Taking a Global View
Ruth Cairnie, Executive Vice President, Strategy and Planning, Royal Dutch Shell, talks to Russell Gilbert about the forces shaping the global need for sustainable energy.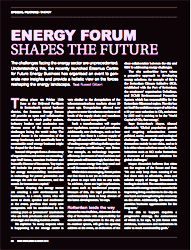 Energy Forum Shapes the Future
Wolf Ketter, Scientific Director, Erasmus Centre for Future Energy Business, and Rotterdam's Mayor, Ahmed Aboutaleb, discuss sustainable energy and the importance of developing the energy markets of the future.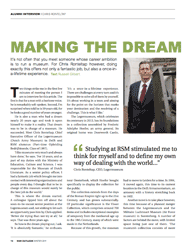 Making the Dream a Reality
Chris Rondteltap, CEO of the Legermuseum (Dutch Army Museum) tells Russell Gilbert why he believes his is the best job in the world.


Gender Identity & Breast Cancer Campaigns
An article ghostwritten by Russell Gilbert on behalf of authors of an academic paper exploring whether health marketing awareness campaigns are effective in increasing the public's perceived vulnerability to any given disease.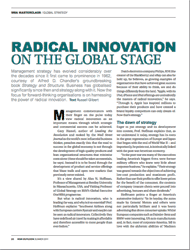 Radical Innovation on the Global Stage
Alan Hoffman, Professor of Management at Bentley University (USA), explains to Russell Gilbert why forward-thinking organisations need to focus on leveraging the power of radical innovation.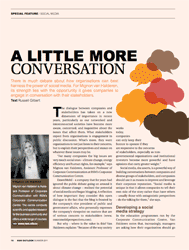 A Little More Conversation
Mignon van Halderen of the Rotterdam School of Management's Corporate Communication Centre tells Russell Gilbert why companies really need to take social media seriously.


Defining Respectful Leadership
An article ghostwritten by Russell Gilbert for Niels van Quaquebeke, Assistant Professor at the Department of Organisation and Personnel Management, Erasmus University, and covering the subject of Respectful Leadership.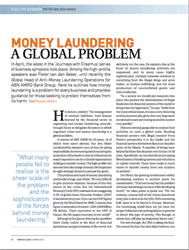 Money Laundering: a Global Problem
Pieter van den Akker, former Global Head of Anti-Money Laundering Operations for ABN-AMRO, talks dirty money to Russell Gilbert.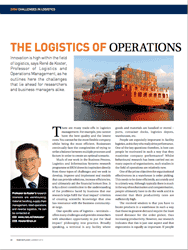 The Logistics of Operations Management
René de Koster, Professor of Logistics and Operations Management at the Erasmus Research Institute of Management, discusses innovation in the field of Logistics. (Ghostwritten by Russell Gilbert)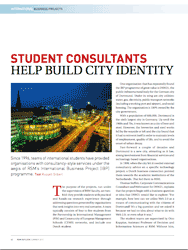 Student Consultants Help Build City Identity
An article exploring how an international business project run by students helps the city of Dortmund to communicate with its citizens in more meaningful ways.


An Evolution in Thinking
Professor of Behavioural Business Ethics, David De Cremer, outlines to Russell Gilbert the urgent need to better understand the issues central to ethics in business and why research into the subject is taking a new evolutionary path.